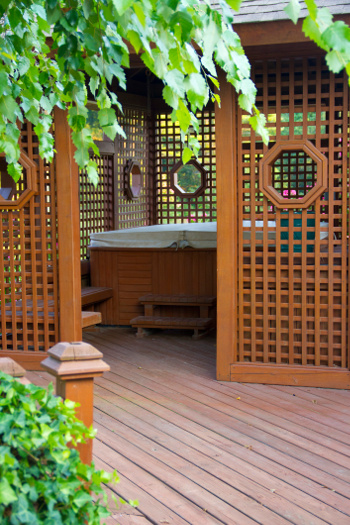 Outdoor spas — they are warm, relaxing, and a wonderful place to unwind at the end of a long day.  But, perhaps you are looking to match the landscaping around your spa to the feel of this addition to your outdoor space. Spas don't have to be an ugly looking addition to your backyard space, and in fact can become a beautiful focal point with the right landscaping and design.  Here are a few ideas of things we've seen that can complete the look and feel of a resort in your back yard.
First things first—a simple option is the classic gazebo.  Gazebos are beautiful and look inviting tucked away and surrounded by some climbing flowering plants or shaded by trees. Add a small flagstone path back to the gazebo that is housing your spa, and this little oasis will become a favorite backyard nook.  It can help to create a separate space that is extra relaxing as it is tucked away.  We've even seen spas in gazebos that have televisions attached inside for those of you who want some relaxation without missing the game.
Another idea for if you like the look of a gazebo, but want to be able to enjoy the night sky as you relax inside your spa, is to instead build a deck around the spa.  Cherry or dark colored woods can be used to build a stunning deck with benches around your spa. Hide towels and cleaning supplies within the bench and you've got yourself a resort-style spa right in your own backyard.
If these larger additions are more than you are looking for, another great option is to focus on the actual plant landscaping and some more basic features around or leading to your spa.  Spas are luxurious in and of themselves, but some properly placed potted plants and a small stone path leading up to it can take it from regular to extra special.