We have two conveniently located stores for shoppers in the Greenville area, each stocked with a variety of pool parts.
Having a pool on your property in Greenville, South Carolina is a great benefit, but pool ownership comes with some required maintenance and upkeep tasks. Taking care of your pool can help maintain its value and provide a safe, enjoyable place to swim throughout the warmest months of the year. As a pool owner, you'll need to invest in some necessary pool parts. The parts you need will depend on the size and layout of your swimming pool. One of the most important pool parts is a ladder, allowing safer access in and out of the water. Both in-ground and above-ground pools can use ladders for people to climb in and out without slipping on the deck.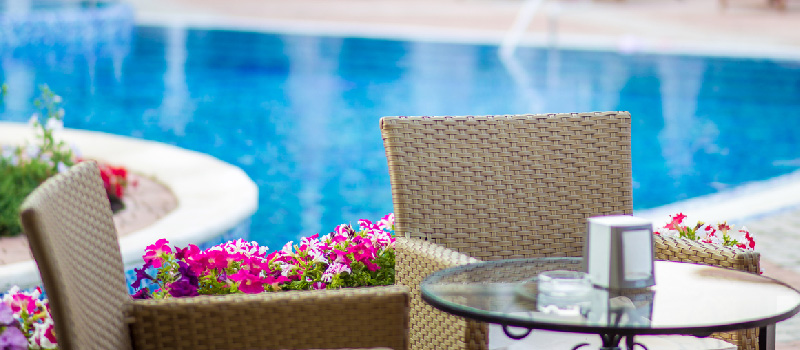 Other important pool parts include cleaning tools, chemicals, and pumps. You can choose from cleaning tools to use manually, such as nets and skimmers, as well as automated sweepers that keep the pool clean with ease. Chlorine is the most common chemical used to maintain the cleanliness of the water, although some pool owners choose to use salt instead. You'll also need testing systems to check the pH and chemical levels to make sure the water is safe for swimming. Pumps keep water flowing throughout the pool.
How to Know Which Pool Parts You Need
When you consider the many different types of pool parts with some being helpful yet others absolutely necessary, it can feel overwhelming to select what you need to purchase. Here at Outside In Leisure Products, we have two locations in the Greenville, South Carolina area that don't just have all the pool parts you could need, but also caring and knowledgeable people to assist you with your selection.
We have more than 20 years of experience in the swimming pool industry, so it is safe to say that we know our way around pool parts. When you add in our integrity, you can be confident you won't be advised to purchase something you don't really need or want. We'll help you select only those items that enhance your swimming pleasure, make it easier to care for your swimming pool, or keep your swimming pool in top condition so it can give you many years of enjoyment.
The type of pool parts you'll need depend on several factors, including whether you have an above-ground or in-ground swimming pool, how often you use the pool, whether you allow pets in the pool, and what time of the year it is. The last item noted relates to whether you need pool parts to winterize your pool. We are happy to walk you through that process, as well. We can also advise you about salt systems that avoid the need to add liquid chlorine or chlorine tabs to your pool. Contact us today to learn more about the pool parts we have to offer and our support system to guide you about the most beneficial choices.
Finding high-quality pool parts is easier than ever when you shop at Outside In Leisure Products. We have two conveniently located stores for shoppers in the Greenville area, each stocked with a variety of pool parts. We look forward to helping you find the parts you need to keep your pool ready for swimmers throughout the summer months.
---
At Outside In Leisure Products, we offer pool parts to residents of Greenville, Spartanburg, Anderson, Simpsonville, Mauldin, Powdersville, Greer, and Fountain Inn, South Carolina.